Dandruff - #StressAwarenessMonth
What is dandruff and how can it be treated? Our Engagement and Projects Officer, Chloe, explores.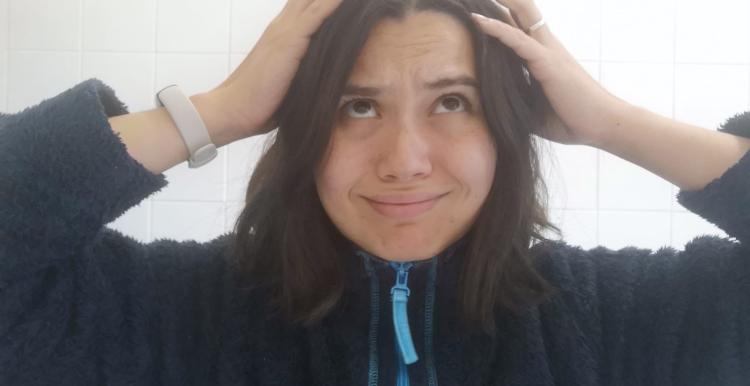 What is dandruff? 
With a quick Google search, the NHS website confirms that it is "a common skin condition. It's not harmful and you cannot catch it."  
What are the common causes of dandruff?
Thankfully – and for my own piece of mind - it "is NOT caused by poor hygiene" – much to some popular belief. 
"...stress and cold weather may also make dandruff worse." 
Great for us residents who have had to endure a long, cold winter... 
How to treat it 
Rather than stressing about stressing, I went on a mission to find out what to do about it. 
NHS advice says to use anti-dandruff shampoo for 1 month.  
What confused me, though, is that I regularly use anti-dandruff shampoo anyway, which contains several of the ingredients that is recommended to treat dandruff: 
zinc pyrithione 

salicylic acid 

selenium sulphide (or selenium sulfide) 

ketoconazole 

coal tar 
NHS advice goes on to say that if that doesn't work – try another shampoo and/or ask your pharmacist how to use it. 
Nearly always preferring to speak to someone face-to-face, I headed to a local community pharmacy - Windwood Chemist, based on Askew Road, Shepherds Bush - after work one day to ask for some more advice. 
Pharmacist Mahsa was more than happy to assist me. 
The first thing she asked me was: "Have you been stressed recently?" 
I thought, yes, quite. I've recently moved house amongst other personal changes in my life, which, as many of us can appreciate, can be a stressful experience. And very apt that it happened to come about during Stress Awareness Month in April. 
It always amazes me how physical symptoms present themselves when experiencing lower mood or mental and emotional health. 
See our top tips on how to manage stress!
She suggested some anti-dandruff shampoos that the pharmacy stocks, which include ingredients like ketoconazole, etc. 
She also suggested using oils - a natural remedy.  
She prescribed washing my hair, then rubbing and leaving coconut oil in my hair overnight, before washing it out the following day. Conditioner on the side was also fine. 
I tried that and so far, so good.  
Of course, it's advised to contact your GP if dandruff symptoms persist after one month. "The GP can check your scalp for skin conditions that could be causing your dandruff" – like eczema, contact dermatitis or psoriasis. 
Image