How to access mental health support if you're lesbian, gay, bisexual or transgender
Mental health problems are more common among lesbian, gay, bisexual and transgender (LGBTQ+) people. If you are struggling, feel alone or need a little help, then check out our guide on how you can get the support you need.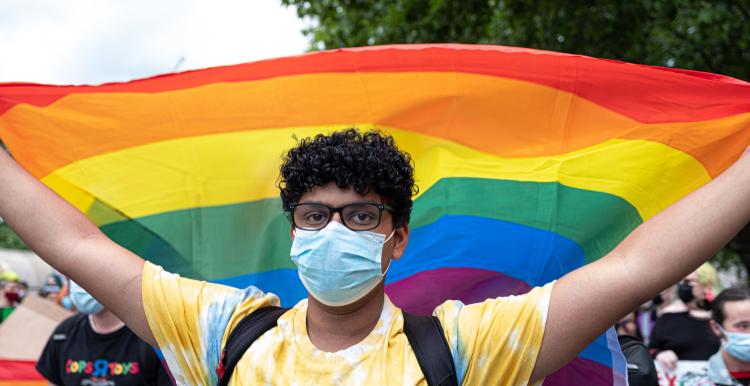 Members of the LGBTQ+ community are more than twice as likely to have a mental health disorder or experience depression and anxiety. Poor mental health may be linked to experiences of discrimination, homophobia, transphobia, bullying, social isolation or rejection due to your sexuality.
It might not be easy, but getting the right help and support is essential.
What help is out there?
There is lots of advice and support out there for you.
Talking with a therapist who is trained to understand your specific situation may help if you:
Have difficulty accepting your sexual orientation.
Need help coping with other people's reactions to you.
Feel like your body doesn't reflect your true gender.
Are currently transitioning.
Are trying to cope with bullying or discrimination.
Are feeling depressed, have low self-esteem, are thinking suicidal thoughts or thinking about harming yourself.
There are different types of talking therapies, so you can find one to suit your needs. Treatments available on the NHS include:
Cognitive behavioural therapy (CBT).
Guided self-help.
Counselling.
Mindfulness-based cognitive therapy.
In Hammersmith & Fulham, you can access talking therapies through the local IAPT (Improving Access to Psychological Therapies) service Back on Track.
You can refer yourself online or by calling 0300 123 1156.
For more information about the IAPT service, please visit their website by clicking on the button below.
If you need urgent help, you can contact
West London NHS Trust's Single Point of Access service by calling 0800 328 4444. You can call this number 24 hours a day, 7 days a week, 365 days a year for help and advice in a crisis, from trained mental health advisors and clinicians.
Hammersmith & Fulham Safe Space (provided by Mind) by calling 0207 471 0582 to leave a message and they will get back to you. Or you can drop in to the Safe Space between 5pm-7pm, 7 days a week at Safe Space Hammersmith and Fulham, 309 Lillie Road, SW6 7LL. The Safe Space is a local hub for anyone who feels they are nearing mental health crisis point. Please note this service is for people aged 18 or over.
If you are experiencing an emergency or feel like your life might be in danger, please call 999.
When should I get help?
You should be able to get help as soon as you feel like you need it. There are currently long waiting times for NHS services, so don't wait until you feel at a crisis point to reach out for help.
Who can I contact for help?
You can always try talking to your GP for help. They will know what support is available locally and refer you to NHS therapies if needed.
There are also support organisations you can talk to who offer specific mental health advice for people in the LGBTQ+ community:
If you are still unsure who to contact for help and support, please contact the team at Healthwatch Hammersmith & Fulham who can direct you to the right place.