Healthwatch H&F Annual Report 2022-23
We are delighted to publish our Annual Report for 2022-23. Read about the work we carried out throughout the past year and the impact we made in the local community.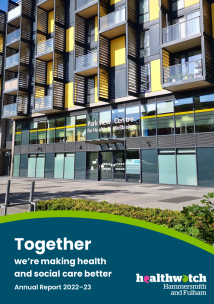 Our Annual Report of 2022-23 summarises our key projects, including the care for carers, the social prescribing service, and evaluating the new online booking system PATCHS, as well as patient experience findings, enter and view findings and our plans for the upcoming year 2023-24.
All of our work was supported by a fantastic team of volunteers whose hard work has made a real difference to the local community.
"I would like to take this opportunity to thank all the Healthwatch Hammersmith and Fulham staff and volunteers, who have continued to work with dedication to ensure a responsive and vital service continues to support the local community"
Our year in numbers
5,483 people shared their experiences of health and social care services with us, helping to raise awareness of issues and improve care.
515 people came to us for clear advice and information about topics such as mental health and the cost-of-living crisis.
We produced 23 reports about the improvements people would like to see to health and social care services.
We carried out 4 Enter & View visits to care homes to observe the delivery of the services.
We're lucky to have 31 outstanding volunteers, who gave up 67 days to make care better for our community.
We're funded by the Local Authority. In 2022-23 we received £120,000.
Our priorities for next year
Continue to work with borough partners on improving local mental health services for residents.
Look at how finances/cost of living are impacting on health and care access, particularly digital access and continue to signpost residents to available support.
Work with the Local Authority and several local partners on disorders that primarily affect residents from Black, Asian and minority ethnic communities (Diabetes, Sickle Cell Disorder)