Healthwatch H&F Annual Report 2021-22
We are delighted to publish our Annual Report for 2021-22. Read about the work we carried out and the impact we made in the local community.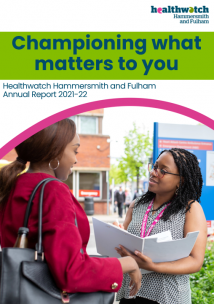 Our work for the year included launching a blood donation awareness campaign highlighting the need for Black, Asian and Multi Ethnic communities to donate blood; creating a mental health directory to highlight suicide and bereavement support services; and running a month long stress awareness campaign. 
All of our work was supported by a fantastic team of volunteers whose hard work has made a real difference to the local community. 
"I would like to take this opportunity to commend the Healthwatch Staff, Volunteers and Student placements whose dedication, enthusiasm and tireless contributions are at the heart of the work we do. Your service and commitment towards Healthwatch Hammersmith and Fulham has allowed us to champion for Hammersmith and Fulham residents across many of our services in the health and social care sector."
Our year in numbers
5,581 people shared their experiences of health and social care services with us, helping to raise awareness of issues and improve care.
264 people called us for clear advice and information about topics such as COVID-19 vaccination sites and Mental health support in the borough.
We published 19 reports about the improvements people would like to see to health and social care services.
We carried out 10 Enter & View visits to GP practices and Charing Cross Hospital discharge lounge to observe the delivery of the services.
We're lucky to have 34 outstanding volunteers, who gave up 338 days to make care better for our community.