Read the latest update on Covid-19 vaccine to find out who is eligible for the Spring Booster dose.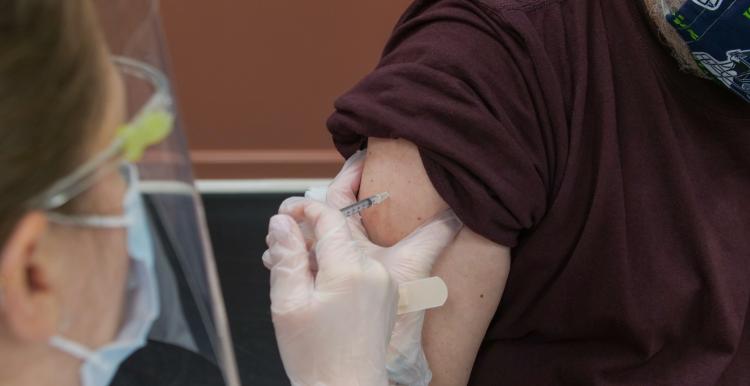 The spring booster is being offered as a precaution to those at extremely high risk from COVID-19 . If the number of infections increases over the summer, this booster should help to reduce your risk of being admitted to hospital with COVID-19. It is available for people aged 75+, those in care homes and those aged 12 years and over with a weakened immune system. Please note the national booking service is not yet taking bookings but eligible people can book for their spring booster from 21 March.  The national booking system will be open for booking from 91-182 days after the last COVID-19 vaccine dose and you should be offered an appointment around 6 months (and not before 3 months) since your last dose of vaccine.
Since 2020, the COVID-19 vaccine has been our most important protection against the virus, reducing the risk of it being spread and limiting the damage it does to our bodies. The NHS has given more than 117 million doses of the vaccine in England, including more than 32 million booster and third doses. More than four in five eligible adults have received their booster dose, and around nine out of 10 of eligible people aged 40 and over. Since the vaccine was first approved in the UK, health and care services have rapidly adapted their approach to respond to new clinical recommendations, to make it the biggest and most successful vaccination programme in NHS history.
The latest UKHSA data (COVID-19 vaccine weekly surveillance reports, week 10) shows that the COVID vaccine has led to more than 157,000 hospitalisations being avoided.
Spring boosters In February, the Joint Committee on Vaccination and Immunisation (JCVI) advised a spring dose of the COVID-19 vaccine for:
adults aged 75 years and over
residents in care homes for older adults
individuals aged 12 years and over who have a weakened immune system
The NHS will contact those who are eligible to make a spring booster appointment, so people should wait until they hear from the NHS. The NHS will prioritise those whose clinical need is greatest, as it has throughout, starting with those who have had a bigger gap since their last dose, then working through the cohort to invite others who have waited less time. Everyone who is eligible will be offered a top up between three and six months over the Spring and early Summer.
Evergreen primary and booster offer At the same time, the NHS continues to encourage those who have yet to come forward for their first, second or booster dose, to do so at a time and place that is convenient for them. COVID-19 is still active, and the vaccine offers the best protection against becoming seriously unwell, staying out of hospital and passing the virus on to others.
Nearly one in five eligible adults have yet to receive their initial booster dose and the NHS is urging them to come forward.
There are still plenty of walk-in options in every part of the country for people to get their initial booster. People can find their nearest centre or book an appointment at www.nhs.uk/covid-booster or by calling 119 free of charge (translators are available on request) and more information can be found at www.nhs.uk/covidvaccine.
Those who have recently recovered from COVID should still come forward for their vaccination, as having had the virus does not give the same levels of protection. Anyone over 18 who has had COVID will need to wait four weeks before having any dose of the vaccine, or 12 weeks for those aged 12 to 17.