Lost for words – improving access to healthcare for ethnic minority communities
People with little or no English struggle at all points of their healthcare journey. Healthwatch England's new research shines a light on barriers and delays to care they often experience and calls for equal access for all.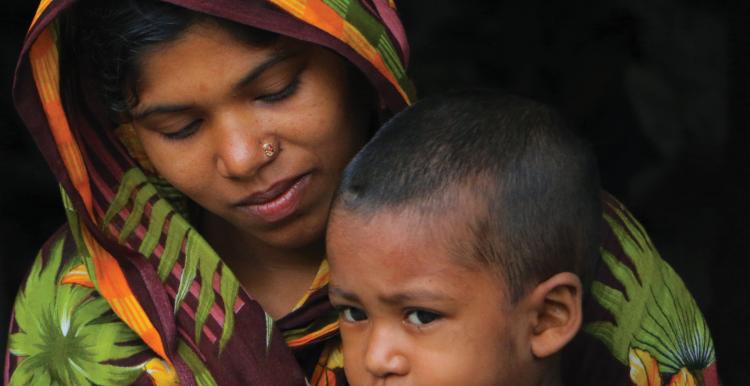 Clear, understandable information is vital to help you make decisions about your health and care and get the most out of services.   
Healthwatch England's latest research shows that people who speak little or no English struggle at all points of their healthcare journey. These are often some of the most vulnerable in our society, for example, refugees and asylum seekers.   
They find it difficult to register with a GP, access urgent care, navigate large healthcare premises, explain their problems, or understand what the doctor says.   
Lack of interpreting support further compounds their struggles. They may not know they can ask for professional interpreters, find it difficult to access one when needed, or even understand them if interpreters don't speak their dialect.   
As a result, people who speak little or no English face significant barriers and delays in receiving care, putting them at a disadvantage and contributing to health inequalities.   
Rights to accessible healthcare   
The NHS Act 2006 puts a legal duty on healthcare services to reduce inequalities for patients who cannot speak English "in respect to their ability to access health services; and the outcomes achieved for them by the provision of health services."  
In 2016, NHS England (NHSE) created the Accessible Information Standard (AIS), making it mandatory for all health and social care providers to provide information in accessible formats, such as in British Sign Language or easy read.  NHSE is currently undertaking a review of the AIS and will publish a report in spring this year.
However, the standard doesn't apply to people who cannot speak English and plans to address the many challenges they face in accessing healthcare information and communication support are less clear.   
Healthwatch England working with local Healthwatch   
As part of their Your Care, Your Way campaign, Healthwatch England funded six local Healthwatch to interview people from ethnic minority communities who have either limited or no English about their experience of accessing health and care services.   
The six local Healthwatch were:   
Healthwatch Camden   
Healthwatch Croydon   
Healthwatch Hackney
Healthwatch Liverpool
Healthwatch Norfolk
Healthwatch Reading    
In total, 109 people from diverse ethnic minority communities, including people who identify as Arab, Bangladeshi, Chinese, Polish, Ukrainian, Somalian and Honduran, participated in the research.   
Additionally, 38 staff members working in different healthcare settings took part in the research to share their experiences.   
What types of barriers do people face?   
Poor availability of interpreting services  
A significant blocker to people accessing the services they need is the availability of interpreting services.   
Access to an interpreter can be more difficult for a face-to-face appointment than a phone appointment because staff need to book the interpreter in advance. Several participants pointed out that the pandemic has made accessing an interpreter for remote and in-person appointments more difficult. People found it more challenging to get an interpreter for GP than for hospital appointments.  
As a result, some made their own arrangements, but this could take time and may not be free of charge. One participant asked someone from their community to help and paid them for their time.   
Difficulties in making arrangements might put people off seeking help from the NHS. Healthwatch heard about alternative solutions, such as asking relatives from their home country to send them medicines.  
Limited access to urgent care services  
Access to urgent care services can be challenging if services don't record communication needs. For example, calls to NHS 111 can be much longer. Several participants told the research team that they often do not understand the information they hear when calling NHS 111. Some end up in A&E, where they struggle again to express their concerns.  
Quality of interpretation   
When interpretation is provided, the quality and suitability of these services sometimes leave room for improvement. Healthwatch have heard about interpreters not understanding medical terminology or speaking a dialect sometimes so distinct that it is like another language. 
As a result, patients have felt obliged to rely on family or community members to help with their translation needs. This puts them in a position where they feel uncomfortable or unable to share private information with their care providers, as they do not wish to share these confidential details with members of their community.  
 "I don't know if they actually understand me because I'm Syrian. They bring an Iraqi, a Moroccan, Tunisian [interpreter]. The dialects are different, and that's a struggle." Syrian woman who spoke to Healthwatch Reading 
Lack of translated information in other languages   
People who cannot read English find it hard to get written information about their conditions or medication in their first language.   
Healthwatch also heard that translated information that has complex terms without explanation may not help people understand what action to take. For example, a Yemeni woman mentioned that the information she had received had Arabic words that were difficult to understand.   
Without access to translated information, people take risks by self-diagnosing or self-medicating without consulting their doctors.   
Access to information in other languages was particularly challenging during the pandemic. Some of the participants said they used social media to search for information. This might mean that they got inaccurate and misleading information about keeping themselves safe.  
Low awareness of communication support  
Due to a lack of available information, people with little or no English may not be aware of language interpretation services that are available to them. Several people who shared their views didn't know they could ask for help for their communication needs. As a result, they had never used NHS interpreting services. Moreover, those aware knew of such services at hospitals but not at GP surgeries.  
 "I wasn't aware that I can request support around interpreting. I only thought that this is available through the hospital and only if they think it is necessary. I thought it's only for midwifery because the only one who brought me an interpreter was the midwife. Often my husband had to skip college to come with me to appointments." Arabic woman who spoke to Healthwatch Hackney 
Issues around support from GP practices  
GP services are the initial point of contact for patients. However, it is not clear from the evidence whether they receive any training to identify and support people with limited or no English.   
Consequently, they may not record or misrecord a people's language needs at the beginning of their healthcare journey. As a result, they may overlook a person's needs, affecting access to treatment and other services.   
Services not being joined up  
The Healthwatch research highlighted inconsistencies in the type and quality of health services' software systems. Different trusts and care systems use various programmes that don't communicate. As a result, patient information is not always shared effectively, and essential details about language challenges are missed or overlooked.  
Inadequate staff support  
The staff know that they need more support to help patients with little or no English language skills. But some services don't have the right processes to identify and help patients with language needs. This means that staff are unprepared to assist patients who speak little or no English.   
Software and systems across individual services don't always provide a prominent place to record patients' language needs. As a result, staff may record these details on an 'as and when' basis.  
Funding and costs  
Many healthcare staff recognise the importance of language support and want to help patients but feel constrained by ever-reducing budgets for support.  
Consultations for those who require language support are typically longer, more complex, and more costly. Trusts are often charged by the hour for interpreters, which can be expensive when there is no clear indication of how long appointments will last. It can discourage them from allocating funds towards interpretation services.   
Some staff mentioned they could come under pressure if trusts feel they "over-use" interpretation services. On these occasions, departments can be flagged for using interpreters too frequently or asked to make sure they only use interpreters "if they really need to".  
Freedom of Information (FOI)   
Despite the challenges faced by people who do not speak English and the clear need for better language interpretation, responses from 115 NHS trusts to Healthwatch England's FOI requests show that spending on translation and interpreting services is falling.     
Annual spending on interpretation and translation services rose from £22.7 million to £26.5 million during the financial year 2019/2020 (compared to the previous year), but then plummeted to £17.8 million in 2020/2021. Overall, this marks a 22% decline in spending over three years.  
Much of this decline may be to a fall in patients attending hospitals and the shift to online or video interpreting, which costs less. However, it is not clear whether patients are being given a choice between online and face-to-face interpreting as the NHS returns to pre-pandemic service levels.  
Positive feedback   
The Healthwatch teams who conducted the research heard about small changes that some care providers are implementing that positively impact patients. For example, signs at reception desks listing languages that information is available in and introductory information leaflets printed in different languages are particularly useful.  
What can be done?   
To improve access to and quality of interpreting and translation services, Healthwatch England set out the following recommendations:  
Department for Health and Social Care and NHSE should urgently introduce new statutory guidance for all health and care providers on commissioning interpreting and translation services. Services must have a legal duty to ensure that interpreting services are provided when required.   

NHSE should carry out a review of standards surrounding interpreting and translation to include all major areas for improvement identified in our recommendations for the review of the AIS. This should include improved frameworks for accountability, improvements in IT systems to support patient flags and sharing of information, involving patients in designing services and better staff training.

NHSE and leaders across Integrated Care Systems (ICS) should use the transition to ICS to clarify their duties in the provision of interpreting and translation services. They should ensure contracts are designed to support integration and continuity of care as part of this.  
Next steps  
Healthwatch Hammersmith and Fulham want to support the local health and care providers in ensuring everyone has equal access to health and care services, regardless of their communication and language needs. As part of our work plan for the next financial year, we will be engaging with local ethnic minority communities to gather further insight on people's experience of healthcare information. 
Tell us your experience
Have you or your loved ones had problems accessing healthcare information because of a language barrier? Share you experiences. 
Downloads
File download
Lost for words: Healthwatch evidence on how language barriers contribute to health inequalities