Enter & View Report - Charing Cross Hospital Discharge Lounge
Report on our two Enter & View visits to the Charing Cross Hospital Discharge Lounge in March 2022.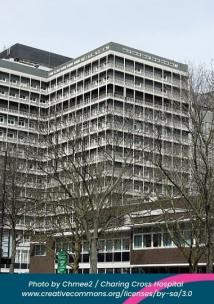 Background
Part of the local Healthwatch programme is to undertake 'Enter and View' visits. As part of our Enter and View programme, we conducted two visits to the Charing Cross Hospital Discharge Lounge on the 7th and 10th March 2022 where we observed the service delivery and spoke with patients and staff members.
Based on the observations and feedback, we have highlighted good practice and produced a set of recommendations. 
Healthwatch

H&F Recommendations

Based on the analysis of all feedback obtained, Healthwatch H&F made the following recommendations. We include the response from the Charing Cross Hospital Discharge Unit below each recommendation.

1. We recommended better communication to patients regarding the arrival times of patient transport and that training on the transport booking system is provided to staff members.

Response: "We have lots of ongoing work regarding the transport contract that ICHT (Imperial College Healthcare NHS Trust) holds. Falck the company who provide patient transport are experiencing workforce and recruitment problems that they are working to address. Ward teams are working to ensure that all their staff are trained on the transport booking system, and we are rationalising ordering patient transport only for those that need it. The Discharge lounge staff are also ensuring all members are trained on the system and are building strong relationships with the transport coordinator to ensure transport cases are prioritised according to any cut off times of the receiving care team (rehab unit, care home etc.)."

2. We recommended better internal signage to direct patients and their relatives to the discharge lounge. We also recommended staff are provided a space to take breaks and store their personal belongings.

Response: "We now have a sign outside of the unit that is visible from the corridor. The Trust has launched a Charing Cross Site Wide Wayfinding project to improve patient experience of wayfinding and the discharge lounge area will be included in this.

Locked cupboards, drawers or lockers are being provided to ensure staff have a safe place to leave their belongings. Imperial Charity has just opened a brand-new refurbished staff rest area on the 2nd floor which can be used during breaks by all staff including the discharge lounge team."

3. We recommended that the discharge lounge staff are included at ward level meetings to strengthen relationships with nursing staff and ward managers. We also suggested that in order to improve the efficiency in the discharge process, the Discharge unit is included in the new ward staff induction so that all ward staff members are aware of the operation of the Discharge Unit.

Response: "We are always working to better communicate discharge arrangements between the MDT and social services. The discharge lounge staff attend daily bed meetings with the nurses in charge of the medical wards and the site team. We also have a discharge team who liaise with the wards every day. The discharge team also facilitate a daily complex discharge huddle at 1030 attended by adult social care and other community partners where issues are raised and problem solved. We are working to better use our electronic patient record to ensure all updates are on the patient record as soon as we receive them. We expect changes to our electronic patient record to go live in Autumn."

4. We suggested that it may be beneficial for Discharge Unit staff to liaise more closely with the Pharmacy department/other wards to identify whether any improvements can be made to expedite medication requests which often cause delays to discharge.

Response: "We note that that the provision of take-home medications does cause delays on the day of discharge. The Trust is rolling out a large programme of Improvement focussed on Board Round and Ward Round practices with the aim of early completion of Discharge letters to improve discharge and flow. This programme of work is launching in July 2022. We are also working with the NWL ICS about alternative solutions to Medications Compliance Aids for patients going home with a care package as we acknowledge that the provision of dosette boxes adds to delays."
From the Head of Integrated Discharge for Imperial College Healthcare NHS Trust:
"We would like to thank the Healthwatch team for taking the time to visit the discharge lounge again and for their very comprehensive report and feedback. Thank you very much for the very positive feedback contained within the report. We would agree that there is scope for improvement in the discharge unit and welcome the suggestions made by Healthwatch which we will now work with our colleagues and staff to implement."